Archive for category Events
Not only do you get last Thursday's show archive today, but we're also sharing the newest look into the Common Enemies project with you: SP's short promo mix to hype the Common Enemies show on February 17!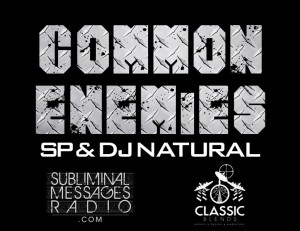 Tracklist:
Robotic Pirate Monkey ft. Collin McLoughlin & Sam Adams – Monsters
Girl Unit – Every Time
Kanye West & Jay-Z – H.A.M.
Mayhem & Whisperlink – Trap Or Die
Killa Instinct – Haterz
Direct Feed – Who Gives A F**k
Mark Instinct – Numba 1
Killer Buddah & The Juggernaut – Dull Boy
The Freestylers ft. Belle Humble – Cracks (Flux Pavilion Remix)
Temper D & Balkansky – In Pictures
Excision & Noiz – Force
Common Enemies – LIVE!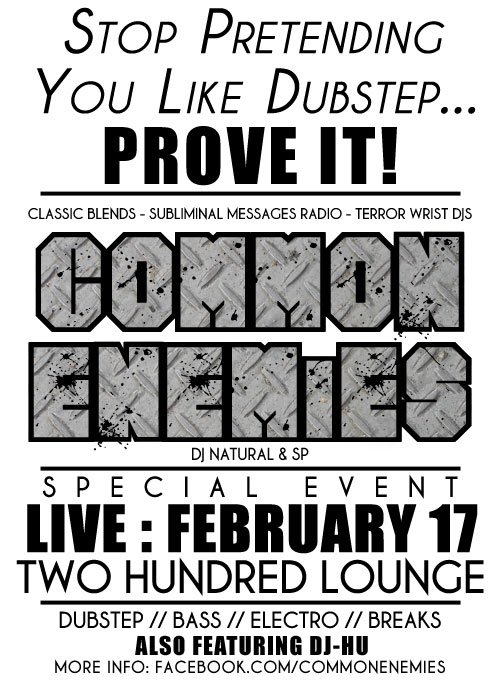 February 17 at Two Hundred Lounge
[Located at 200 Anastasia Blvd., St. Augustine, FL]
This is St. Augustine's first real dubstep event!
A night not to be missed, SP (of Subliminal Messages Radio) and DJ Natural (of Classic Blends) will bring the emerging dubstep sound to the nation's oldest city. Teaming up on 4 (yes, 4!) turntables, SP and Natural will bring together dubstep, hip-hop, turntablism, and their combined experience of over 30 years behind the decks, to make sure St. Augustine truly knows what dubstep music is.
Creating a bond based on their mutual appreciation for heavy bass, and desire to expose St. Augustine to the best in electronic and dance music, SP and Natural have teamed up to prove that "just because its the nation's oldest city, doesn't mean we can't throw down."
The event is sponsored by Classic Blends and Subliminal Messages Radio, and will take place at Two Hundred Lounge – St. Augustine's newest and most popular venue – on February 17.
More information will be posted as it becomes available.
For more information on the Common Enemies project, visit them on Facebook.
More info on Two Hundred Lounge can be found on their website.