Where I'm At: Volume 3
And we're back with volume 3 of the "Where I'm At" mix series, featuring one of our oldest friends and favorite DJs, Moniker (real name: Alex Pulido).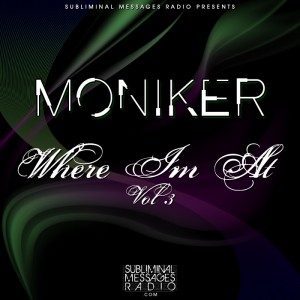 On this mix, Moniker goes back to the roots of old-school vibes, infusing funk-fueled electro and synthy house grooves, delivering a solid 78 minute retro-future flash forward into the sounds of electronic music.
One of the reasons we wanted Moniker to contribute a mix is because he's one of the most versatile DJs we know. First being exposed to his selections through his CYBANK project (with his DJ partner at the time, Martial Flaw) with IDM/glitch-hop mixes "001" and "002," and epic genre-smashing mixes like "Sine Language" and "Sundaes With Juju." Moniker has delivered a number of our favorite mixes under his other monikers (pun inferred, but not intended) Walrus Jackson, Tiago, and his collaborations with Goose and Joe Neely under the guise of White Label.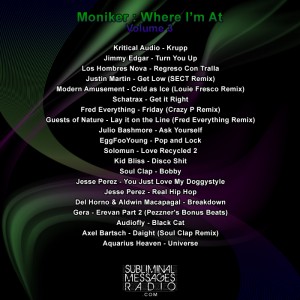 A few words from Moniker on his contribution:
I wanted to do something that was a throwback to my roots but a nod to the present funk/electro/nu wave revival going on. I came up in the South Florida scene in the late 90s so Breaks/Electro was my passion. I wanted the mix to have that old school vibe but with a new twist. I think this is definitely a good representation of "Where I'm At" because I've been nostalgic for the "good ol days" lately. A time when I would spend all day in the record stores digging for jems, driving up and down FL for the next can't miss event, and listening to that same mix tape on repeat because it was just too good to let go. This might be my last DJ mix for the foreseeable future so I put a lot of love into this one, I'm hoping it sticks around on the hard drives for a while.
Moniker - Where I'm At: Vol 3
Tracklist:
Kritical Audio – Krupp
Jimmy Edgar – Turn You Up
Los Hombres Nova – Regreso Con Tralla
Justin Martin – Get Low (SECT Remix)
Modern Amusement – Cold as Ice (Louie Fresco Remix)
Schatrax – Get it Right
Fred Everything – Friday (Crazy P Remix)
Guests of Nature – Lay it on the Line (Fred Everything Remix)
Julio Bashmore – Ask Yourself
EggFooYoung – Pop and Lock
Solomun – Love Recycled 2
Kid Bliss – Disco Shit
Soul Clap – Bobby
Jesse Perez – You Just Love My Doggystyle
Jesse Perez – Real Hip Hop
Del Horno & Aldwin Macapagal – Breakdown
Gera – Erevan Part 2 (Pezzner's Bonus Beats)
Audiofly – Black Cat
Axel Bartsch – Daight (Soul Clap Remix)
Aquarius Heaven – Universe
Find the main page for the series here.