Halloween is a mere 10 days away… but the horror begins NOW.
SP's newest studio mix takes you on a journey into the apocalypse. From the zombie uprising to genetic mutation, with crazed monsters and psychotic killers roaming around every turn, NO ESCAPE! twists and turns through some of the heaviest, evil-themed dubstep music SP could get his rotting paws on.
I'm always really last-minute when it comes to Halloween; from planning the radio show and event setlists to never having a costume until an hour or two before the sun sets. So, this year, I wanted to get a jump on things. Granted, no costume yet, but at least I've got the soundtrack planned out!
Take caution, stay vigilant and keep your eyes open… there are ghosts, goblins, vampires, zombies, and a whole cadre of other dreadful creatures on the loose.
…And there is NO ESCAPE!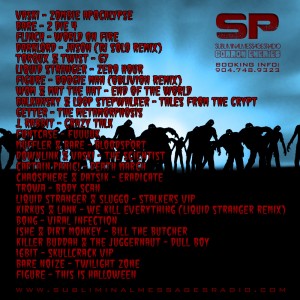 SP - NO ESCAPE!
Tracklist:
Vaski – Zombie Apocalypse
Bare – 2 Die 4
Flinch – World On Fire
Darklord – Jason (DJ Solo Remix)
Torqux & Twist – G7
Liquid Stranger – Zero Hour
Figure – Boogie Man (Oblivion Remix)
WOM & Mat The Hat – End Of The World
Balkansky & Loop Stepwalker – Tales From The Crypt
Getter – The Metamorphosis
J. Rabbit – Crazy Talk
Funtcase – Fuuuuk
Muffler & Bare – Bloodsport
Downlink & Vaski – The Scientist
Captain Panic! – Death March
Chaosphere & Datsik – Eradicate
Trowa – Body Scan
Liquid Stranger & Sluggo – Stalkers VIP
Kirkus & Lank – We Kill Everything (Liquid Stranger Remix)
Bong – Viral Infection
Ishe & Dirt Monkey – Bill The Butcher
Killer Buddah & The Juggernaut – Dull Boy
16Bit – Skullcrack VIP
Bare Noize – Twilight Zone
Figure – This Is Halloween